You're interested in Adirondack chairs but not sure which material is right for you. Allow us to help you make that decision. There are many different types of materials available for Adirondack chairs including teak, aluminum, composite, plastic, poly, and more. However, the ones we will be talking about today are probably the most common which are composite and plastic.
Plastic and composite Adirondack chairs have plenty of differences including the durability which they provide, the price, the maintenance they both require, and much more. Use the table of contents below for reference.
Material Differences: Composite & Plastic
Right off the bat, there are a couple of differences between the composite and the plastic materials for Adirondack chairs. Composite is manufactured from a variety of materials including a wood fiber, a binding agent, and even some plastic! Composite is a material that is commonly used in furniture, flooring, and many other structures as well.
Plastic is a cost-efficient material that is commonly used in outdoor furniture because of its availability and price. Plastic Adirondack chairs can be a good solution for your outdoors if you are looking for something quick and inexpensive. That being said, plastic is much more likely to fall apart or break on you within a short period of time. Composite or poly Adirondack chairs is the way to go for a longer, more comfortable, and durable life.
Durability: Composite Adirondack vs. Plastic Adirondack
Without a doubt, the composite Adirondack chair is a more durable chair than any plastic one. This is because of the durability of the material. Plastic is a much cheaper material and is much more common on cheap lounge chairs. That being said, you do need to pay for what you get. The cost of the composite will be significantly higher due to the lifetime and quality.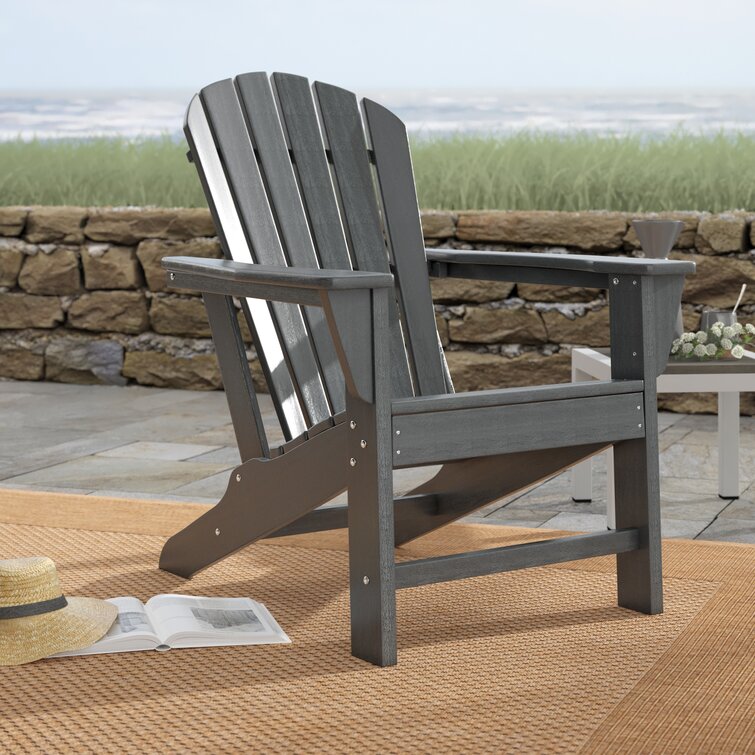 Photo Credits: Wayfair
Maintenance: Composite Adirondack vs. Plastic Adirondack
Maintaining both plastic and composite Adirondack chairs is not much harder than the other. A simple warm water and dish soap combination will do the trick for both materials. However, you may find yourself cleaning and taking care of the composite Adirondack chair more often because of the material. Since it is a more expensive and quality material, you may find yourself cleaning it more often than not. Other than occasional wiping, both chairs are easily maintainable.
Price Comparison: Composite vs. Plastic vs. Poly
Since composite is a more durable and sustainable material than plastic, it is also a more expensive material. Composite and plastic can range from many different prices. You can find a cheap plastic Adirondack chair for sale on Home Depot, Target, or any large retailer anywhere from $20 to $100. Take a look at some of the plastic Adirondack chairs below to get an idea of the price.
Plastic Adirondack Chair Prices (Low Quality)
Composite Adirondack Chair Prices (Medium Quality)
Poly Adirondack Chair Prices (High Quality)
Folding Composite Adirondack Poly Chair
$384 – $421
see this chair
Poly Deluxe Composite Adirondack Chair
$394 – $433
see this chair
Royal Composite Adirondack Chair
$493 – $541
see this chair
Which Option is Better?
Now that we have reviewed which Adirondack chair is more durable, the maintenance required for each, and the price comparison, it is time to find which is the better option for you.
If you are someone who is looking for a short term outdoor chair on a budget, then a plastic Adirondack chair maybe for you. However, if you are someone who is looking for a long-term Adirondack chair, the poly Adirondack chair is for you. Explore the many options of composite Adirondack chairs and find which would best suit your home.
Where can I Get Composite Adirondack Chairs?
Composite Adirondack chairs can be found practically everywhere. You can find them in stores at big name retailers like Home Depot, Lowes, etc. Some local shops may also carry them, so make sure to check local furniture stores. The last place you can look is online which may be the best option.